Danh mục nội dung: Chuyên mục chính/3. Hệ thống, công cụ và thiết bị phát triển sản xuất điện tử/3.1. Tủ sấy, tủ bảo ôn, tủ môi trường (Dry cabinet, Enviroment storage)
◊ Đặc điểm chính:
Industrial quality control is an important task but you are not able to stare at the hygrometer all the time. Intelligent microcomputer, touch panel and LCD panel can help you not only switching displays between temperature and humidity level, it is equipped with humidity level recording function to real time check humidity level in the cabinet. It can also be arbitrarily set desired humidity level between 1% -90% RH and stabilized humidity control within ± 2% RH range. Upon power failure, it will memorize the preset value and will not be altered due to power failure. Furthermore, it can be upgraded with internet connection to monitor and control the humidity level on line, which gives you a peace of mind all the time. The low humidity specialized sensor is made in the USA by Honeywell with stability, accuracy and credibility
Điều khiển đạt chất lượng công nghiệp là một nhiệm vụ quan trọng nhưng bạn không thể lúc nào cũng phải nhìn đồng hồ đo độ ẩm được. Máy vi tính thông minh, với màn LCD cảm ứng chạm có thể giúp bạn không chỉ chuyển mạch hiển thị giữa mức nhiệt độ và độ ẩm, nó còn được trang bị chức năng ghi lại mức độ ẩm ở thời gian thực để kiểm tra độ ẩm của tủ sấy này. Nó cũng có thể được thiết lập tuỳ ý mức độ ẩm mong muốn giữa 1~99% RH và điều khiển độ ẩm được ổn định mức ± 2% RH. Nếu có mất nguồn điện, nó sẽ lưu nhớ giá trị đã thiết lập trước đó và sẽ không thay đổi do lỗi nguồn cấp điện. Hơn thế nữa, nó có thể được nâng cấp nhờ kết nối Internet để giám sát và điều khiển mức độ ẩm một cách trực tuyến (tức thì), điều này giúp bạn luôn thấy thoải mái. Cảm biến chuyên dụng độ ẩm thấp được sản xuất ở Mỹ bởi hãng Honeywell có khả năng ổn định, chính xác và uy tín.
Capacity:490L
Outside Size:H970 x W1180 x D500 mm
Inside Size:H890 x W1168 x D470 mm

(Model SL-416CA và model SL-450CA có giá bằng nhau)
5%RH Utra low humidity storage SL-416CA ESD Coating(490 Liters)
<5% RH ultra-low humidity dry cabinet, patented dehumidification technology

Extremely fast recovery to ultra-low humidity in 5 mins

Remove trace moisture / prevent oxidation and rust of electronic parts

Increase process yield rate/effective cost reduction/save management time

Meet and exceed U.S. IPC/JEDEC J-STD-033 preservation standards

Dry Cabinet for Moisture Sensitive Devices

Quickly recover the dry condition of the component, floor life reset of the unit

No need for nitrogen / no need for air compressor / no need for high temperature baking

Simple operation/no supplies/no pipe connection/low power consumption

24-hour safety dehumidification equipment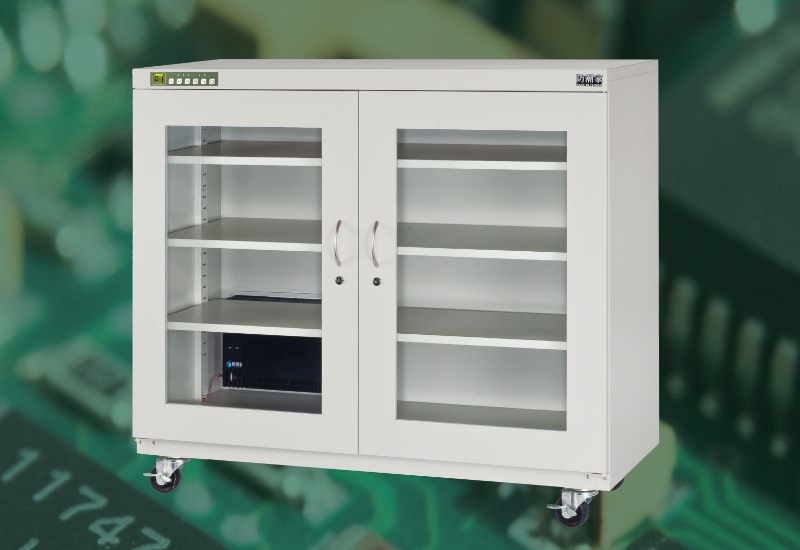 ---
Necessary dry storage equipment for industrial electronics and semiconductor industry
<5% RH ultra-low humidity dedicated dehumidification technology
Optional: 2 doors type cabinet.
---
Patent design dehumidifier for ultra-low humidity level
Extreme dehumidification: Humidity quickly drops below 10% RH in just 5 minutes, while 5%RH in 10mins.

lowest humidity control of less than 1%RH.

Multi-purpose / solve all moisture problems in the production process

No need for nitrogen / no need for air compressor / no need for high temperature baking

Low power consumption.

Optional function: Upgrade humidity control range of 1-50% RH at extra charge, the widest range of desiccant dry cabinet control in the industry

Received multiple key patent technologies, unauthorized reproduction will be prosecuted.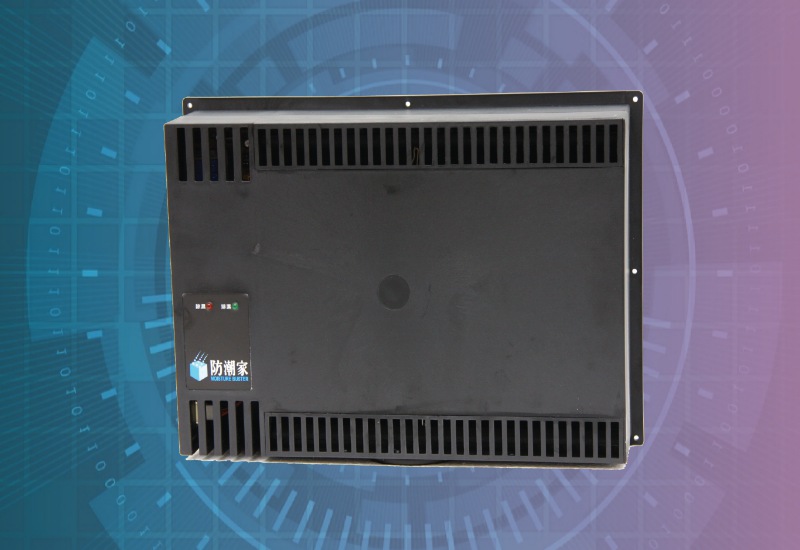 ---
<20% RH low-humidity dedicated intelligent digital panel
Utilizing the low-humidity special sensor provided by US manufacturer Silicon Labs

Humidity detection range: 1-99%RH

Humidity display accuracy is ±3%RH (at 1-60%RH)

Dehumidification guarantee: can easily drop to 1% RH minimum humidity value

Built-in simple record function to monitor humidity changes over 24 hours (up to 12 sets of records)

Optional function: Humidity alarm system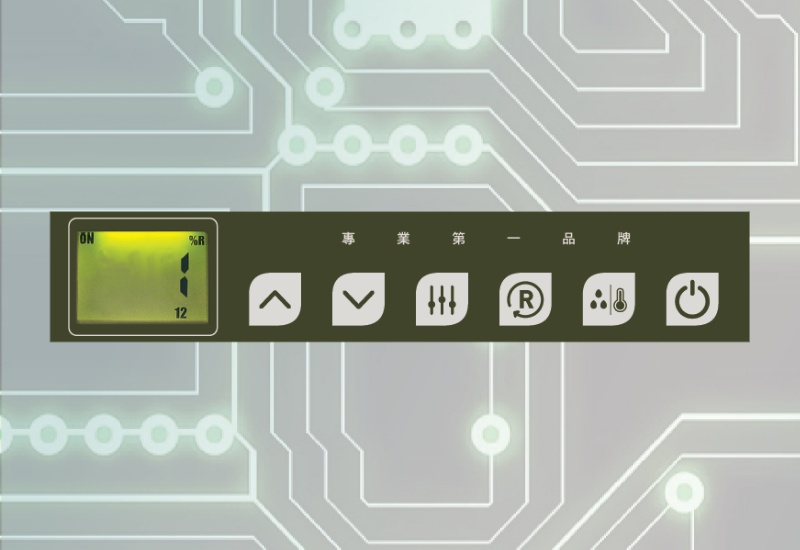 ---
The manufacturing of the ultra-low moisture cabinet completely follows the standards of IPC/JEDEC J-STD-033 on managing the IC integrated circuit. The omission of repackaging and the high temperature treatment enhance the assembly quality while reducing the cost effectively.
Much more superior than the counterparts in terms of dehumidification power, speed of dehumidification after door opening, life span and energy saving.
1、Extreme Speed Desiccating Performance

Ambient: 25℃, 50%RH.
At first use (empty cabinet), it takes 2-12hours to reach 5%RH. And it can keep in lowest humidity level for 24-72hours.

2、Speedy humidity reduction even with multiple door openings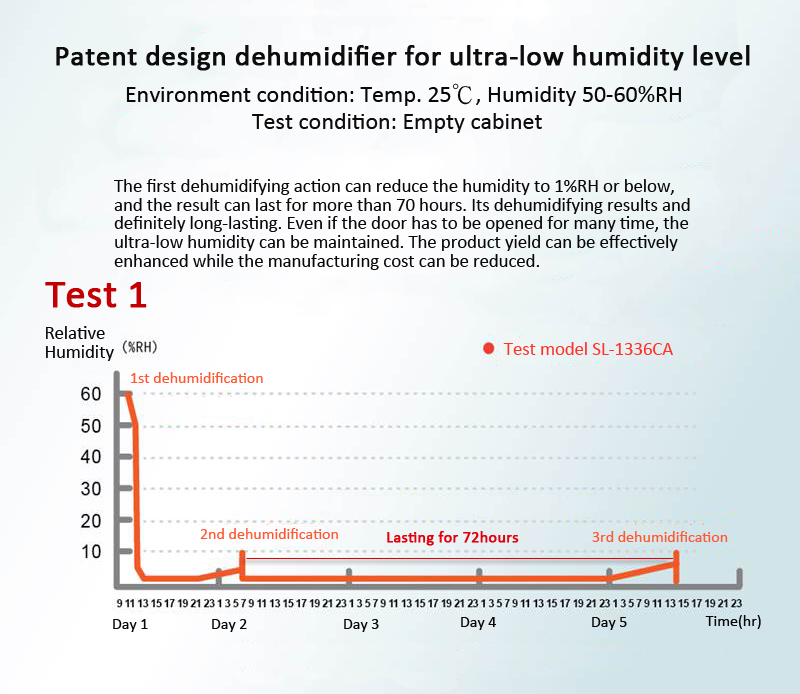 Ambient: 25℃, 50%RH.
Empty cabinet testing, one door opened for 30 seconds, the humidity can recover below to 10%RH within 5-30mins. While 5%RH within 10-60mins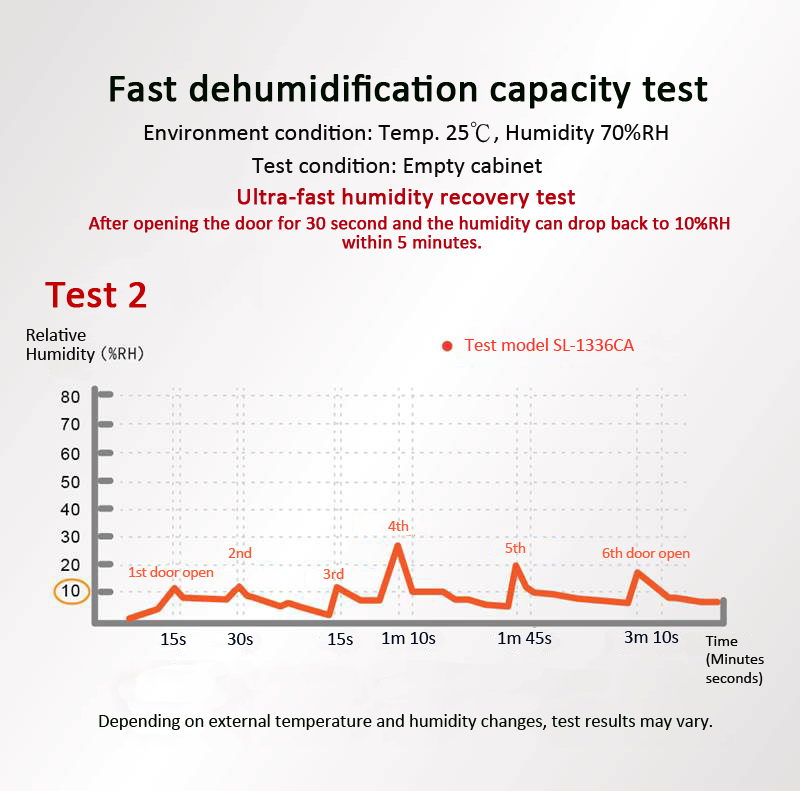 ---
With a patented dehumidification structure design, component life is 10 times more durable than other brands

Significantly reduces maintenance costs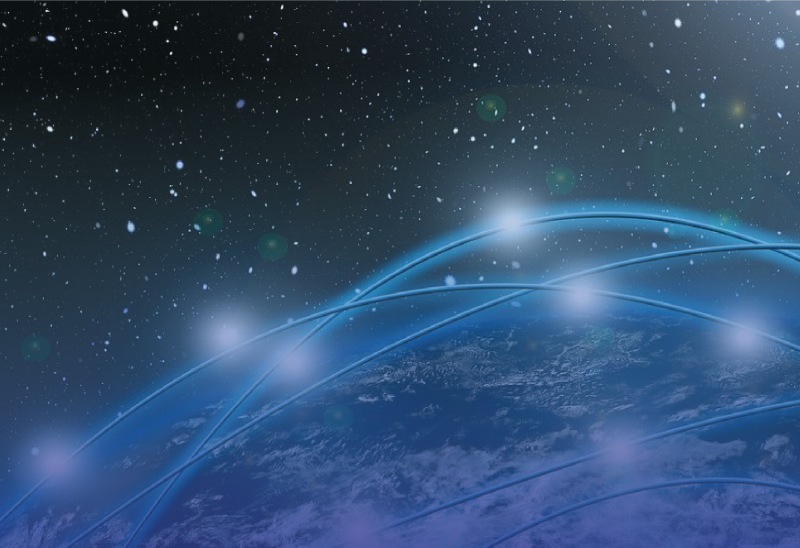 ---
Over 30 years of heritage and expertise
Steel cabinets are designed with a highly airtight structure
Uses the same strong magnetic sealing strip as the refrigerator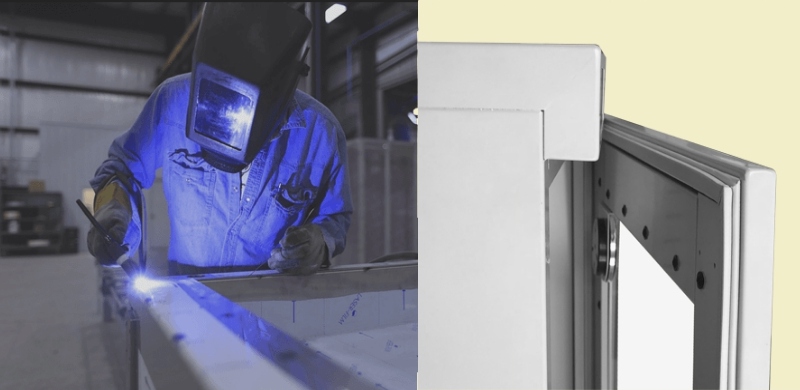 ---
Anti-static paint for all cabinets

3mm or more anti-static tempered glass

Large heavy-duty conductive wheel set

Ground wire 1MΩ

Heavy-duty anti-static steel laminate with an average load of 60KG

Optional: Black color coating.

Optional: Stainless steel board (customized fittings) for advanced clean rooms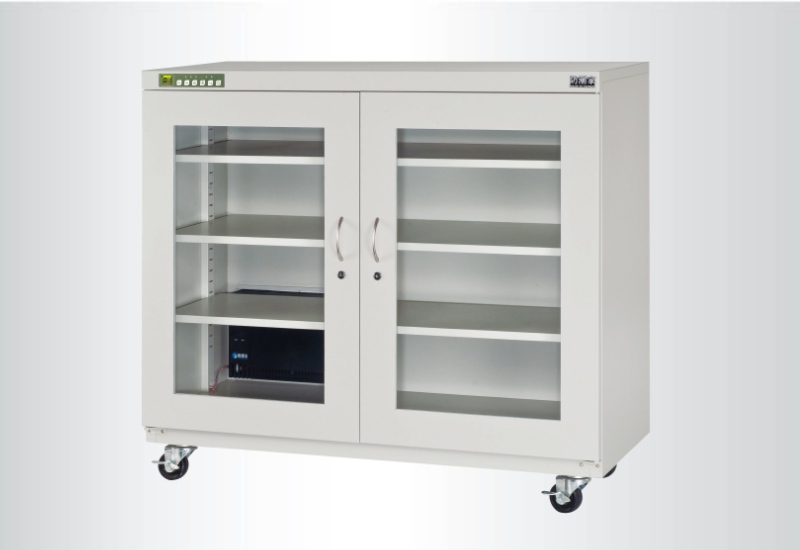 ---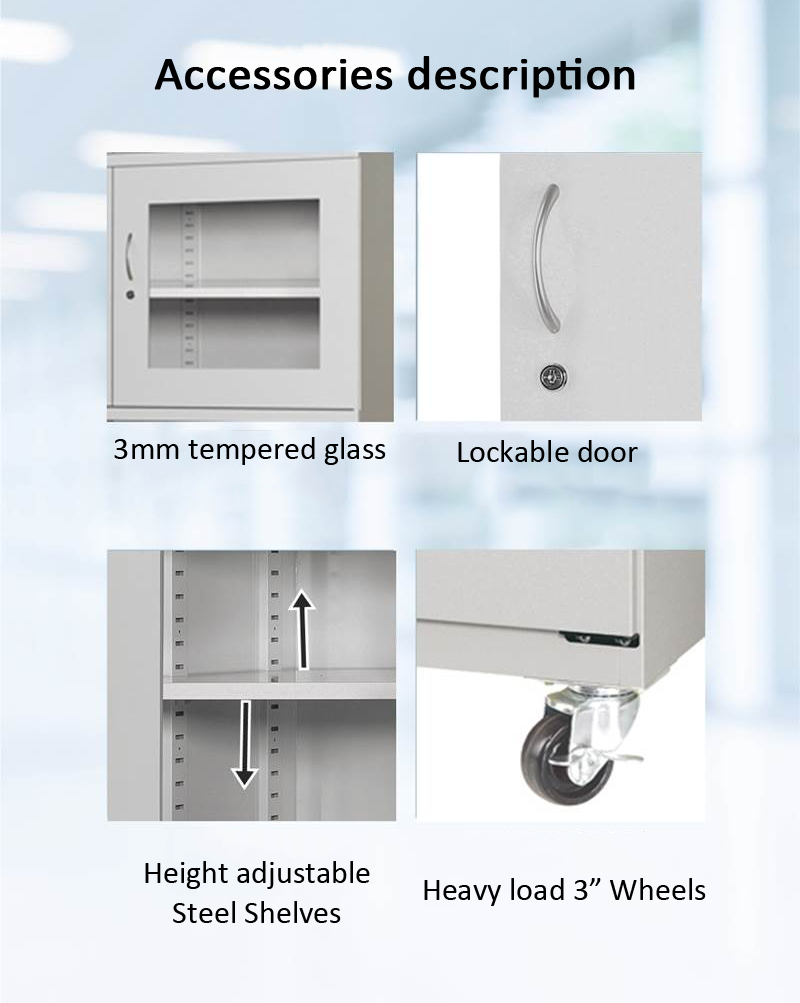 ---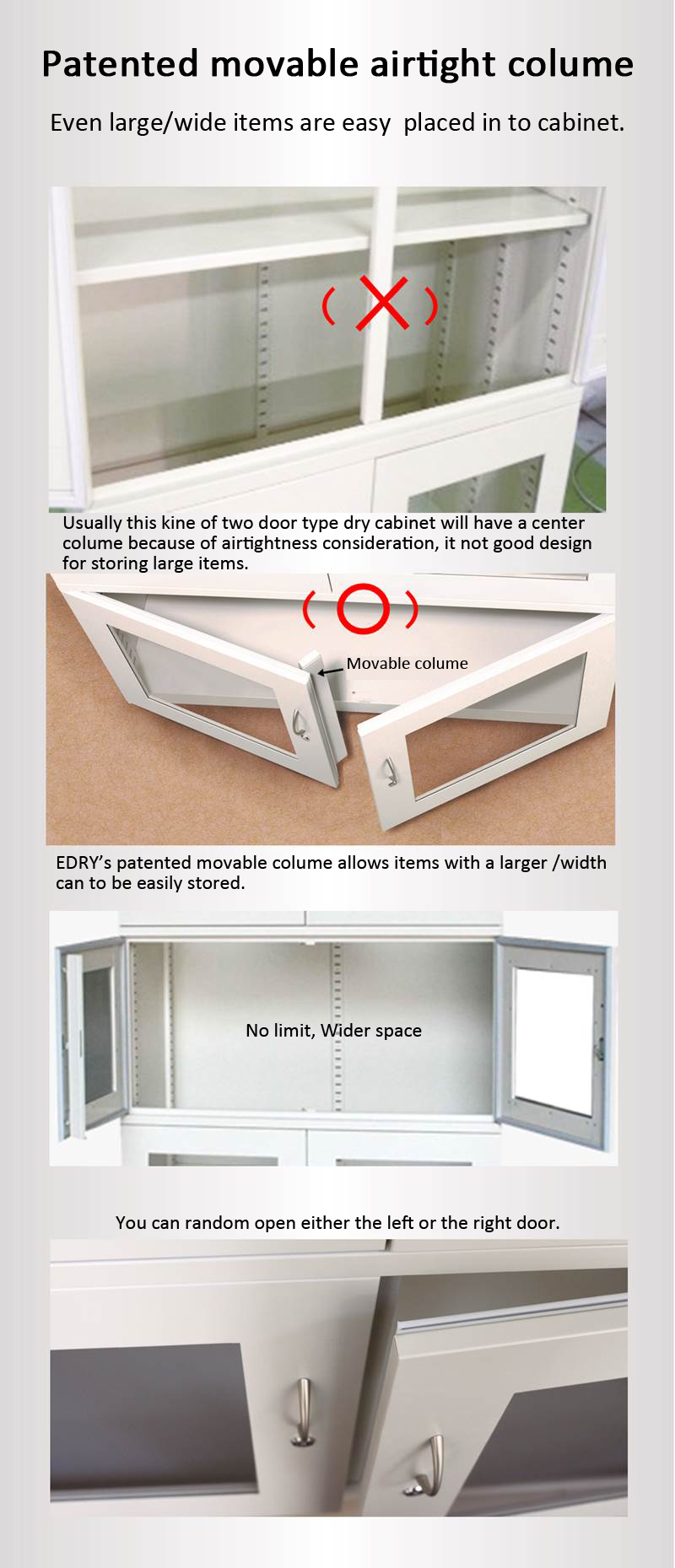 Model
SL-416CA
Desiccating Capability

Return to 5%RH in less than 10 minutes; Return to 10% RH in less than 5minutes.
It can easily return to 1%RH and stable control.



Khả năng hút ẩm:
- Đạt mức 5% RH ở dưới 10 phút;
Đạt mức 10% RH ở dưới 5 phút.
- Dễ dàng đạt mức 1% RH và điều khiển ổn định được
Capacity
490L
Desiccator's Configuration Layout
Dung tích 490L
Outside Size
H970 x W1180 x D500 mm
Humidity Control Design
Intelligent microcomputer control, touch control panel operation, LCD panel display.
Thiết kế điều khiển hút ẩm:
Điều khiển bằng máy vi tính thông minh, màn hiển thị LCD cảm ứng điều khiển chạm
Inside Size
H890 x W1168 x D470 mm
Cabinet body design
Cabinet body uses 1mm strengthen steel plate
Thiết kế thân tủ: dùng thép tấm dày 1mm
Accessories

Upward/Downward adjustable board*3



Warranty Period
Desiccating Theory
Average Power Consumption
16W
Công suất tiêu thụ điện trung bình: 16W
Humidity Control Range
Humidity Control Range 1%~40%RH
Power Source
AC110V+10V 50/60HZ or customized AC220V+10V 50/60HZ or other customized power requirement.
Customized Cabinet by appointment is available if the function, size or color specification does not meet your needs. (Có thể được thiết kế lại theo yêu cầu khác của khách hàng về chức năng, kích thước hoặc mầu sắc)
CÁC SẢN PHẨM KHÁC CÙNG NHÀ SẢN XUẤT / OTHER PRODUCTS FROM EDRY